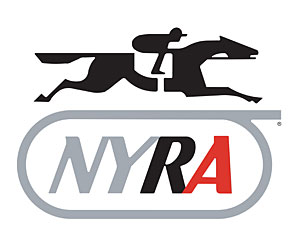 NYRA, the New York Racing Association, has been the home of Evening Attire throughout his career. Whether it be the tough winter meet at Aqueduct, the spring and fall championship meet at Belmont, or the worlds toughest meet, the summer meet at Saratoga, NYRA has brought the world's greatest racing to its fans for over 50 years.

NYRA has been very helpful to me in putting this site together and I would like to publicly thank them for their support. So please check out their website and see what's happening.
BELMONT - THE HOME OF CHAMPIONS
Below is a great article about Evening Attire after his latest win, including comments from his wonderful co-owner, Tommy Kelly. I would like to thank NYRA for use of the article.
| | |
| --- | --- |
| | By Jenny Kellner | December 9, 2007 |
| | |
| --- | --- |
| | |
| Evening Attire | |
| photo by Adam Coglianese | |
| | |
The morning after nine-year-old Evening Attire ran off with the 102nd edition of the Grade 3 Queens County Handicap at Aqueduct, Tommy Kelly was still pinching himself.

"I'm on Cloud 9," said Kelly, 88, who bred and owns Evening Attire in partnership with Joe and Mary Grant. "He's such a great horse that the good Lord has bestowed on Joe Grant and myself. I'm still so excited I said my rosary beads backwards today at mass."

To listen to Kelly talk, it sounds as if the veteran gelding's success were the highlight of his career. In fact, he is just another heart-warming chapter in the Hall of Famer's life around horses, which began in the 1930's when he walked hots for John Hertz and, much like Evening Attire, is still going strong today, as an owner and breeder. In between he saddled the winners of 95 stakes races, including champion sprinter Plugged Nickle, Colonel Moran, King's Bishop, and Pet Bully, and was inducted into racing's Hall of Fame in 1993.

"My life has been, bottom to top, amazing," said Kelly, who retired from training in 1998. "Never in my wildest dreams did I ever think I would get so lucky. Evening Attire is like icing on the cake."

Kelly, who now lives in Miami Springs, Florida, with his wife Frances, recalled the day he bought Evening Affair's dam, Concolour, from a former client, Doe Run Farm.

"I was at the farm, and there in a field was this one little mare, all by herself – no pony, no goat, nothing to keep her company," said Kelly. "I said to the owner, 'You have an unhappy camper there.' He put a price on her, and Joe Grant went 50-50 with me, and we started having foals."

One of her first was Evening Attire, who was born on Valentine's Day the year Kelly retired from racing. When Kelly saw the son of Black Tie Affair breeze for the first time, he remarked "that's a special horse – he'll be a stakes winner."

Indeed. Among the stakes Evening Attire has won in his 63 race career are the 2001 Discovery Handicap, the 2002 and 2004 Saratoga Breeders' Cup, the 2002 Red Smith Handicap, the 2002 Jockey Club Gold Cup and the 2001 and 2007 editions of the Queens County Handicap.

"Who knew then how special he would be," said Kelly of Evening Attire, who was initially trained by son Tim and is now conditioned by another son, Pat. "Here's a horse who has gone through life knowing exactly what his job is. He's run on the inside, outside, in the snow, in mud … I think he's got a great race record for any horse. I'm happy when he's third, because he pays some bills. And for him to run like he did yesterday, just 23 days shy of turning ten years old -- what a great horse."

In the mile and three-sixteenths Queens County, Evening Attire broke slowly, then began moving up of his own accord at the half-mile pole, taking on front-running Barcola at the top of the lane and prevailing after a stretch-long duel, much to the delight of his many fans in the crowd at Aqueduct – and Kelly.

"I was watching on television with my wife and daughter, Trish, and son in law," he said. "I didn't know how he was going to run, but Pat had told me, 'Pop, remember he loves the inner track.' Then, when I saw him running so good and kind, and how happy he was – well, my back and legs aren't what they used to be, but I jumped right up off of that couch.

"The phone rang right after the race, and it was Joe Grant calling from Saratoga. He was so happy. And when the jock brought him back to the winner's circle – I've never seen [Edgar Prado] hug a horse around the neck like that. This horse has so many friends, it's unbelievable. If I'd been at Aqueduct, I would have been crying like a baby. He's a horse who's just a great old horse, grand, and popular."

Kind of like his owner.
The below is an article from NYRA with many thanks to them for letting me use it. It is with the wonderful Joe Grant, one of the people lucky enough to own Evening Attire.
GRANT HOPING FOR EVENING ATTIRE/PATRIOTS DOUBLE
By Eric Donovan
This is a big weekend for 58-year-old Boston native Joe Grant. In addition to rooting on his beloved New England Patriots in the American Football Conference Championship Game Sunday afternoon, Grant will be glued to a TV in Saratoga on Saturday around 3:50 p.m. to watch Evening Attire, the veteran gelding he owns with his wife, Mary, and retired Hall of Fame trainer Tommy "T.J." Kelly, make his 10-year-old debut in the 89th running of the $75,000 Aqueduct Handicap at a mile and a sixteenth.
Those connected with Evening Attire have enjoyed an unbelievable ride that began on a January morning at Hialeah Park in Florida, exactly eight years prior to the day of the Aqueduct Handicap.
"I remember walking across the barn area at Hialeah with my wife and T.J.," Grant recalled. "It was the morning of his first published workout and before Evening Attire got on the track, T.J. turned to me and said, 'We've got something special.' Watching him come down the stretch, you could see he was such a long-striding horse. Eight years later, he's still putting smiles on our faces."
Evening Attire has taken the Grants and Kellys to the Breeders' Cup twice, won them more than $2.7 million and produced 10 stakes wins, including the Grade 1 Jockey Club Gold Cup in 2002. The son of Black Tie Affair's best days probably passed him about six years ago, but the veteran is still proving he loves to race and can be competitive near the top levels of the sport. He comes in off a Grade 3 win in the Queens County Handicap last month.
"Back when he was doing exceptionally well, we were getting offers to sell him that probably would have made us better off financially now, but that's not why we're in this game," Grant said. "I really believe he keeps T.J. (who turns 89 later this year) young. T.J. was crying after he won the Queens County."
In Friday's Daily Racing Form, Pat Kelly, T.J.'s son and the trainer of Evening Attire, was asked to rank the gelding's career achievements from one to 10. Pat chose the Jockey Club Gold Cup victory as his favorite moment, but Grant had a different view.
"The most excited I've been through his career was when he won the Discovery Handicap (2001)," Grant said, fondly remembering the day Evening Attire pulled off a 65-1 upset over heavily-favored Street Cry. "I remember watching TVG and listening to them saying he didn't deserve to be in the race against Street Cry.
"My second-favorite moment was when he broke his maiden at Saratoga. It was so close, we couldn't tell if he won or not."
In the early days, Evening Attire was trained by Pat's brother Tim, who retired from training in the fall of 2000. Unfortunately for Tim, it was not until Evening Attire was brought back for his three-year-old season that he transformed into a stakes winner.
"We gelded him because his testicles were undescended and growing inside of him," Grant said. "He showed a lot of promise in his first start with blinkers, which was a turf race he finished sixth in, but got into a lot of trouble. That race led us to taking a shot in the Discovery."
Fast forwarding to Saturday's Aqueduct Handicap, in which Evening Attire finished second in 2004 and 2006, Grant said he is a little concerned about the mile-and-a-sixteenth distance, especially considering the gelding's habit of walking out of the starting gate.
"Obviously, we'd love a mile and an eighth, but there aren't many spots to run him in," Grant said. "We've been lobbying to bring back the Saratoga Breeders' Cup (a race Evening Attire won in 2002) at a mile and a quarter, but I don't think that will happen."
When reached at his home in Boston, Grant said he had just gotten off the phone with T.J. Kelly. The two were discussing, amongst other things, who to breed Evening Attire's dam to. Concolour, who is now 20, has produced 11 foals but none of the other 10 have come close to Evening Attire's accomplishments.
"Evening Attire is a once-in-a-lifetime horse," Grant said when asked if he was disappointed in the other horses Concolour has produced. "Most of them are hard-knocking horses that have earned over $100,000. Only two that have raced haven't won. That's a pretty good record."
On Sunday, Grant will turn his attention to the Patriots, who host the San Diego Chargers in the AFC Championship Game.
"I've been a Pats fan for a long time," Grant said. "In fact, one of the first dates I took my wife on was to a Patriots game. They were playing the Jets and both teams were so bad, I remember them calling it the 'Toilet Bowl.' The Patriots were punting and I think the ball went backwards once it got up in the air and they lost 10 yards."
Grant held season tickets to the Patriots for a long time, but gave them up a few years ago.
"When I first got the tickets, I couldn't give them away," Grant said. "Now they're the hottest ticket in town. I don't really miss going to the games. I'd rather watch them at home in front of the fireplace with some wine and cheese."
Grant, one of the more colorful characters at the track, surprisingly said he does not bet much. But even he would have to get down a proposition bet of Evening Attire onto the Patriots if such a wager was offered.