HRTV did a piece on Evening Attire on their show Inside Information. Click the link below to watch.
NEW VIDEO OF EVENING ADDED 7/5
EVENING ATTIRE HONORED WITH OWN RACE!
The Aqueduct Handicap has been re-named the Evening Attire, in honor of the 2002 Aqueduct Handicap winner who retired in 2008 at the age of 10, and will be run on Saturday, January 17 on the inner dirt track. The $65,000-added race is for three-year-olds and up at a mile and a sixteenth.
Evening Attire to Akindale Farm
Evening Attire will spend his retirement close to all his NY fans. Evening will head to
Akindal Farm
in Pawling NY. Akindale is well known for their efforts to rescue thoroughbreds and provide a great home for them. I can't think of a much better place for Evening to go.
IF YOU CAN AFFORD TO BET ON A HORSE, YOU CAN AFFORD TO GIVE. AKINDALE THOROUGHBRED RESCUE DOES A GREAT JOB OF SAVING HORSES. ANY AMOUNT OF MONEY YOU CAN GIVE WILL HELP OUT A HORSE. PLEASE VISIT THEIR WEB SITE AND MAKE A DONATION IF YOU CAN. THANK YOU!
Pictures from Evening Attire Day
Click
here
to view pictures from Evening Attire Day. The brown horse is Lisa B, who is a half sister to Evening Attire. She is a 3 year old filly who will be racing soon.
Show your support for Evening Attire!
Now you can show your support for your favorite horse. Please visit
H
orseHats.com
to order your hat today. They have hats for a lot of famous horses, and of course, Evening Attire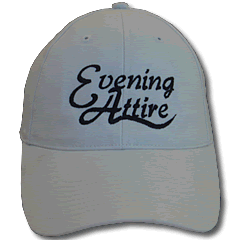 To order your Evening Attire hat from HorseHats.com, click
here
Grade I Winner Evening Attire Retired

Evening Attire, who was on the board in 40 of his 69 starts, has been retired from racing according to Hall of Fame trainer Tom Kelly. Tom Kelly bred and owned Evening Attire with his partners Mary and Joe Grant. Attire was first trained by Tom's son Tim Kelly and later by Pat Kelly. Evening Attire won 9 stakes races and placed in 12 more, earning almost 3 million dollars . His first graded win came in the Discovery beating Street Cry at odds of 65 to 1. At four he won the Jockey Club Gold Cup. In his last race, as a ten year old, he won the mile and half Greenwood Cup at Philadelphia Park setting a track record and earning him a place in the Breeders Cup Marathon.

Attire ran in the Breeders Cup Classic twice and has competed against most of the best horses in the country over the last eight years, including Street Cry, Balto Star, Lido Palace, Macho Uno, Medaglia d'Oro, Volponi, Perfect Drift and Funny Cide.

Pat Kelly said "Last weekend at Monmouth we saw some swelling in his leg. During the week, after discussions with the vet and his owners, we decided, considering his age and all he has done, it was in everyone's best interest to retire Evening Attire and find a good home for him."

Where Attire will retire has not been finalized. All options and suggestions are being considered by his owners.

Mary Grant said "We feel so blessed to have a horse not only racing for eight years but competing in stakes company. Attire has brought our family so much excitement and has given us the opportunity to meet so many wonderful people in the racing world. We are amazed at his popularity. For years he has received birthday cards from fans in this country as well as from New Zealand and Europe. One fan has even built a website dedicated to him, www.eveningattire.net. We just want to thank all his loyal fans for their great support."
This site is dedicated to one of the toughest race horses that ever lived, Evening Attire
THE BELOW PHOTO WAS TAKEN BY CAROLE BASILE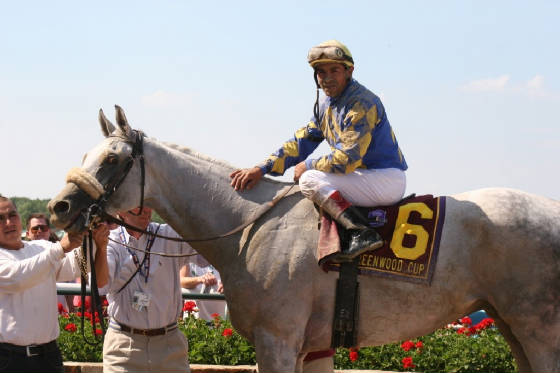 10 year old Evening Attire smiling in the winners circle after capturing the Greenwood Cup 7/19/08 at Philadelphia Park and earning a berth in the Breeders Cup Marathon
If any horse deserves to have his own web site, it's Evening Attire. For 8 years he has delighted his fans with his willingness to take on all comers and battle them to the very end. While he may not always win, he always gives 100%. This web site is for fans old and new and includes a recap of all of his races, where he has raced, his personal best in many different categories, pictures and video. I hope you enjoy it!